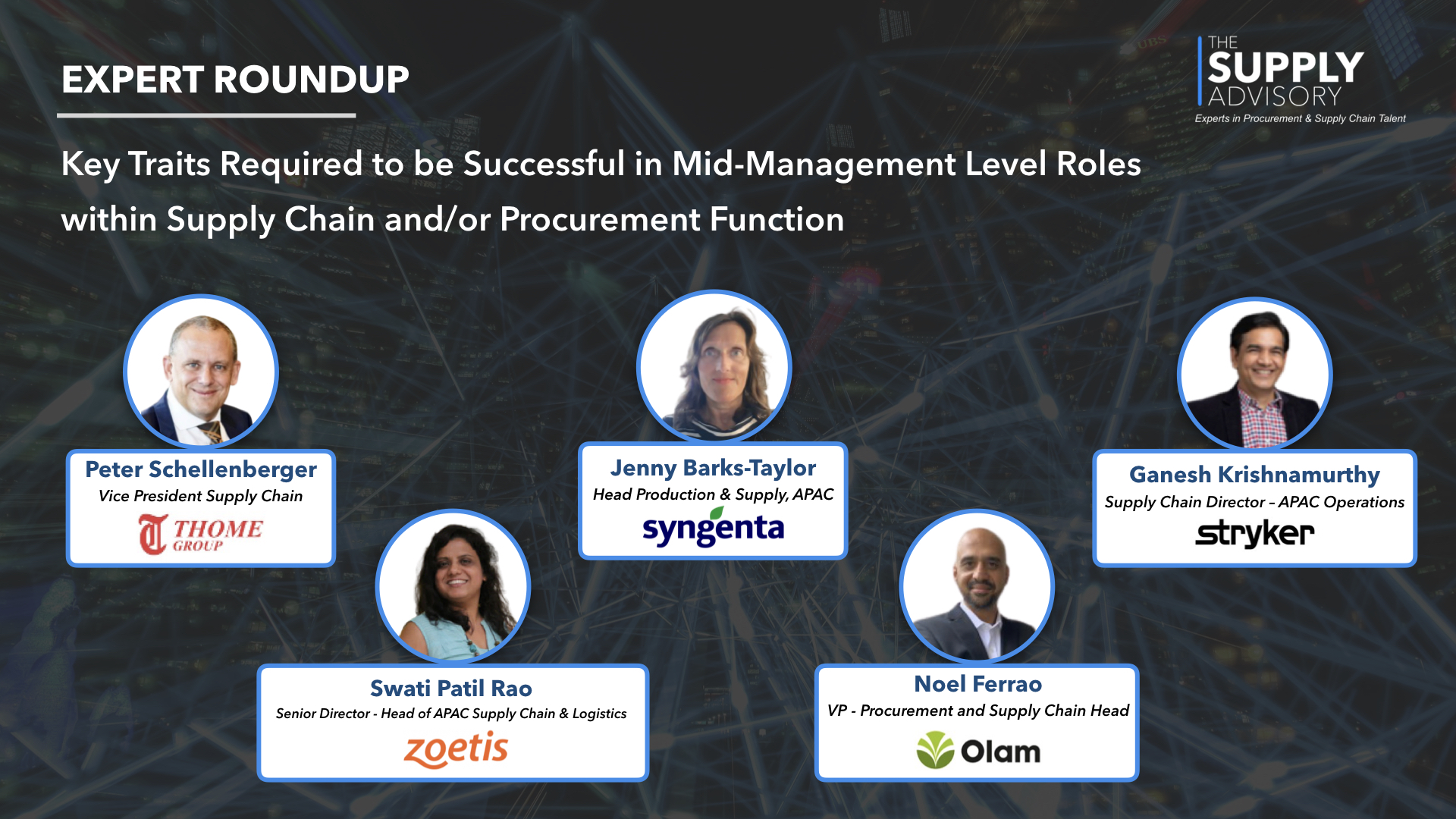 In the decade of recruitment experience that I have, most roles I have recruited have been in the Middle Management level. Middle managers play a vital role in every SCM and procurement function. Besides connecting senior leaders to the frontline staff and junior managers, they create strategies to improve the working environment and serve as the "eyes and ears" of the senior leaders.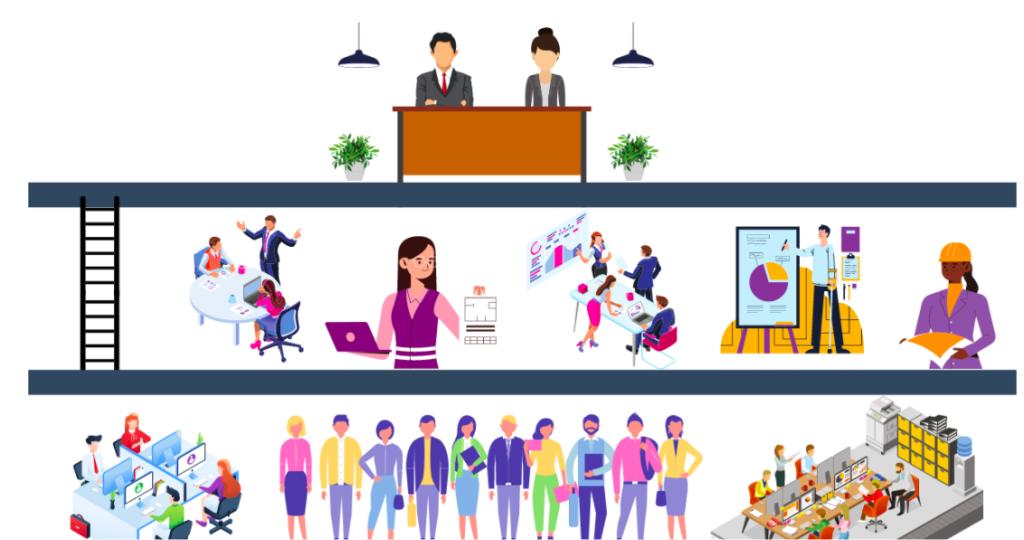 They also execute the plans from the top-level management and ensure that everything falls into place. In fact, the Wallstreet Journal explains that a company's overall productivity heavily relies on the quality of the Middle Manager that they have on board.  
As a result, it's not surprising why thousands of Senior Leaders in the SCM and Procurement function have a specific list of "skills" as well as "traits" that they want to see in prospective talents. Some of these skill sets  include the following:
Communication skills

Learning agility

Resiliency

Change management skills

Innovation

Reporting skills
Others have more distinct requirements when it comes to "traits" in ensuring that they find the right person for the job. Now, traits are trickier than skills. To help us deep-dive into the critical traits that define the success of a mid-management level professional in SCM and/or Procurement, we reached out to five esteemed Leaders in this space from a variety of industries. 
Here are our Expert Roundup contributors for this month:
Peter Schellenberger

from Thome Ship Management Pte. Ltd.

Swati Patil Rao

from Zoetis Inc.

Noel Ferrao

from Olam International Limited

Jenny Barks-Taylor

from Syngenta

Ganesh Krishnamurthy

from APAC HQ Stryker Singapore Pte. Ltd.
As senior leaders in their respective companies, we asked them what top 3 traits they look for when selecting talent for a mid-management position. Let's find out what our guest contributors think about the topic for this month's Expert Roundup.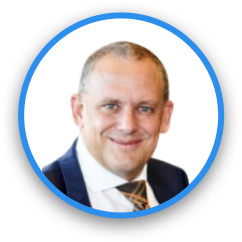 Vice President Supply Chain
Thome Ship Management Pte. Ltd.
Appetite to serve with the head held high
Total commitment to ever-changing landscapes and being open to listening to internal and external problem statements, then being excited to find a solution. Being proud to be part of a core service and key to success for the organisation while knowing that sometimes you have to get "your hands dirty", at all given times.
The Terrier
Not all problems can be solved instantly and ever so often, they are complex and multifaceted or lined too many stakeholders. Never give up trying to find a suitable solution (there is always more than one), and pick yourself up when you fall and fail. Learn from mistakes and make good use of mentors and well-meaning peers. Always maintain the highest standards of integrity.
The Tech Savvy Bit
Being open to experimenting and mastering all possible smart tools to solve problems and organize matters is vital. Never stop screening what's happening and build up or maintain skills way over and above pivot tables. See what start-ups and solution providers have to offer always and try to match problem statements with the application—a bit of better work smart than hard. Time will always be too little anyway.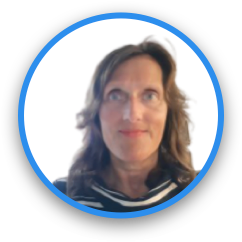 Head Production & Supply, APAC
Syngenta
Passion for Customers
Demonstrated commitment to the customer, internal as well as external.  An ability to collaborate with others, across functions and geographies, as a one-team mentality to delight the customer.  We would be seeking examples to demonstrate how commitments to the customer have been met, interventions effectively implemented to solve problems, and the thinking on how you know you have met the customers' needs.
Growth for All
Fundamental to believe and recognise through action the importance of people development and have a genuine appetite to lead the growth of our people.  People are our competitive advantage and as leaders themselves develop, it is so important that they increasingly recognise that people are our greatest asset.  This can span from being able to provide timely, accurate, and constructive feedback, being open to feedback themselves as well as taking seriously the importance of people's growth and development through their own action and inspiration of others.
Execution and Results Orientation
The ability to analyse complex issues, draw conclusions and make timely decisions within different business scenarios is important to success.  Being able to work as a team and hold each other to account in order to drive results.  Appropriate action on performance issues that are hindering the overall progress and ability to remove obstacles to make progress.  But it is really important to show a balanced approach with a focus on the 'What' and the 'How'.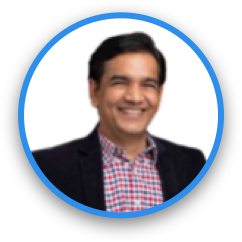 Supply Chain Director – APAC Operations
APAC HQ Stryker Singapore Pte. Ltd.
Self-motivation and maturity
They are self-starters – internally motivated to get the job done.

They approach their jobs with a focus on solutions, not problems.

They are positive thinkers who view their glass as half full, not half empty.

They have the emotional strength to overcome setbacks and obstacles.

They are not high maintenance requiring constant attention, feedback, or reassurance.
Has a huge capacity for work
They demonstrate a willingness to take on greater responsibility and business scope.

They have a "can-do" attitude, never shying away from a new challenge

They do not have a victim mentality – wasting time explaining why things can't get done.

They "connect and develop" to expand capabilities and effectiveness.
Eager to learn
They seek out new ideas/approaches to building the business and organization.

They are personally in touch with consumers, customers, employees, and external stakeholders.

They search and reapply the successful ideas of others.

They admit mistakes, personally accept responsibility and learn from their failures.

They act on performance feedback-taking skills to a higher level versus debating/denying feedback.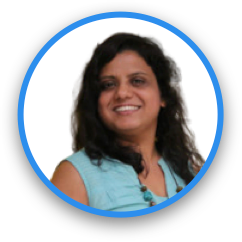 Senior Director – Head of APAC Supply Chain & Logistics
Zoetis Inc.
Ability to connect the dots
Most of the organizations today are complex – matrix structures, geographically dispersed and culturally diverse. Middle managers today lead teams, manage stakeholders, and report to functional management spread across time zones with conflicting expectations and performance drivers.  This exposes them to a multitude of data and requires them to process these inputs to arrive at a decision. Let us not forget that in most cases, decisions are always needed NOW if not yesterday! This ability to gather, process, filter and connect different inputs, then lay down options and seek timely decisions differentiates a 'great' middle manager from a 'good' one. 
Effective communication
Communication, not just spoken or written but listening is an important skill at this level. Most of the middle managers would be new (or relatively new) people managers. Managing teams amplifies the need to listen with empathy, seek to understand and be understood.  Most of us are "smartphone" managers – we read, digest, and respond to emails on our phones. A crisp note, a well-drafted memo, a clearly framed issue always makes life simpler and decision-making faster.
Learning mindset
Reaching the middle management level is a testimony of an employee/candidate's proven track record. However, skills which contributed to success so far might not be sufficient. At this level, expectations are different and so are the challenges; however personal capacity remains limited. The opportunity to get your hands dirty will be fewer but ambiguity much more. Curiosity to learn and willingness to develop new habits like asking the right questions, the effective delegation will be the game-changer.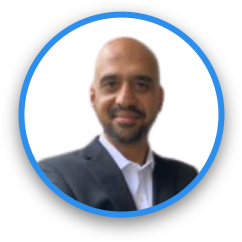 VP – Procurement and Supply Chain Head
Olam International Limited
Rigour
Quite a broad term and would hence like to elaborate that rigour here means exploring all possible angles to resolving issues/driving change. Especially in the current pandemic times, one thing clear is that everything conventional needs not necessarily be the right fit. What we looked at as the most competitive origins for international sourcing need not be so due to irrational freight markets. Rigour in my view is a habit that one inculcates and can be gauged when discussing achievements and past experiences. Hence a question like what was the contribution to a past professional achievement one is proud of and how did one think up and execute through the ensuing time would open up for better discussion.
Perseverance
 A lot of our initiatives may get subdued for want of external inputs or due to factors beyond control. It is important to maintain focus on the objective and to keep persevering. Once again a key indicator could be past experience of candidates. More often than not, regulatory issues, approvals, case building could be examples one has persevered through. 
Learning / Unlearning and relearning
I personally place a lot of emphasis on this trait. We are in a fast-paced world thanks to digitalisation and the proliferation of the internet. Practices, developments across the world can be tracked in hardly any time. It is imperative not only to learn quickly but to also unlearn and relearn. A key indicator of this could either be professional courses attended in the recent past or a discussion on how one perceives developments and offers opinions on them.
Without a doubt, middle managers are among the prime movers in an SCM or Procurement function. They also play a challenging role during the pandemic as they juggle between complying with higher management directives and supporting their team members. 
We hope our Expert Roundup sheds light on the vital traits that make a successful Middle-Manager in the SCM or Procurement niche. Whether you're an SCM or Procurement talent looking to secure a mid-management level position or a Senior Leader hoping to find the right people, we hope our content above can help you.
To Peter Schellenberger, Swati Patil Rao, Noel Ferrao, Ganesh Krishnamurthy and Jenny Barks-Taylor, thank you for sharing your insights on our topic. We are grateful for the time you dedicated to helping us piece together this Expert Roundup. We look forward to collaborating with you again for future blog posts. 
Don't forget to subscribe to our monthly newsletter for the latest news and discussions on SCM and Procurement here in APAC! You can also get in touch with us or check out our SCM and Procurement job posting page to find the job openings in the region.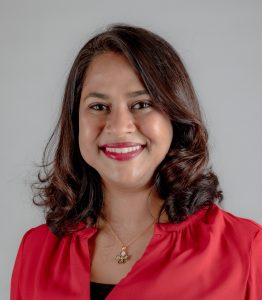 Ananya Sinha Roy is the Director at The Supply Advisory, a leading executive recruitment firm specialising in Procurement & Supply Chain.
You can view the The Supply Advisory website or contact them directly at info@supplyadvisory.com for a more detailed discussion.